Copper / Zymoetz River
Terrace / Thornhill, British Columbia, Canada
Original Zymoetz "Copper" River Bridge
Zymoetz River aka: Copper River
Explored by "White" Explorer, a Mr. H. J. Cambie in 1877
54°33' North and 128°29' West
Tributary of the Skeena River
Highway 16 wasn't like it is today, back in 1920's. Even when I came to this area in 1969, the roads and bridges were totally different, nearly every creek/river had a one way Bailey Bridge.
The whole highway from Jasper was virtually gravel, we are spoiled today.
This is the history of one little area at the Copper river.
ca Jan 1928- George Little was cutting the timber for the new bridge, to connect Terrace to Usk. The bridge was NOT where today's Highway 16 bridge is, you had to go up river on the Copper River, about 1-2 miles.
This map to the right ca 1920's, drawn by Fred Nash, BC Surveyor
Shows location of the Copper River Cable Crossing.
(see picture below).
I originally thought the bridge was here, but due to no scale ruler on the map, It was hard to relate distances.
Cable Crossing located about 3-4 miles up the Copper River
The First Copper River Bridge
It was located just past Webbers place in Copperside, about 1-2 miles up the river.
I have shown it and the new bridge locations on this map above.
Whole map on my
Kitsumkalum Lake
page
The bridge was to be started in late 1927, but high water stopped construction.
It was a one way Bridge, as you can see in the Picture to the right.
May 1929 the Bridge was near completion.
Arthur Carr and his work gang, were finishing the south approach.
2 work gangs were working on it,
The road to connect to the Usk Trail, was under construction by a second gang of men.
It was expected to be open in the fall of 1929.
Arthur Carr
b- Feb 25, 1877, Leicestershire, England, (age 40 in 1917)
d- Oct 3, 1954 in Shaughnessy Hospital, Vancouver BC, age 77
Retired Civil Servant, Prov. Public Works Department
retired in 1942
immigrated 51 years before he died, ca 1903
I believe he served in WWI and was wounded twice.
son of John Carr and Sarah Bott
1923 he worked on the Lakelse Lake road.
married a widow Florence Annie? Henwood, nee Boud, June 26, 1917 in Terrace
b- Cuderford, Gloucestershire, England, age 44 in 1917
daughter of John Day Boud and Mary Meyrick
she was one of the first members of the Terrace Library Board
J. H. Mollard, a BC Govt. Engineer headquartered in Smithers, was working here in 1929.
G. C. McKay was the District Public Works Engineer living in Prince Rupert in 1926
I believe he might be George McKay, and I believe he served in WWI
Alexander Lorraine Carruthers
b- Jan 2, 1879, Sarnia ON, age 36, in 1914 when he married
d- Sept 11, 1971, Sandringham Private Hospital, Victoria BC, age 92
Civil Engineer when he married
He was the Provincial Chief Bridge Engineer
He was also Engineer on the Hagwilget Bridge, Patullo Bridge, and Alexandra Suspension Bridge in 1926.
Retired Professional Engineer, CNR and BC Government
son of Robert Carruthers, and Jane Laird
UBC has a Scholarship in his name
married Winona Mercy Campbell Orr, Sept 15, 1914, Christ Church, Vancouver BC
b- Battleford SK, age 28 when married
occupation- nurse
daughter of Oscar Orr , an Indian Agent
and Retta Laura McColinell
Copper River Cable Ferry
Copper Canyon

Postcard of Copper Canyon, Copper River- 1944 Postcard to Mr and Mrs J. Lockie, 313 Bowman ave.,
Winnipeg MB, date- Feb 15, 1944,
signed by Jim (Lockie?)
8 Mile Creek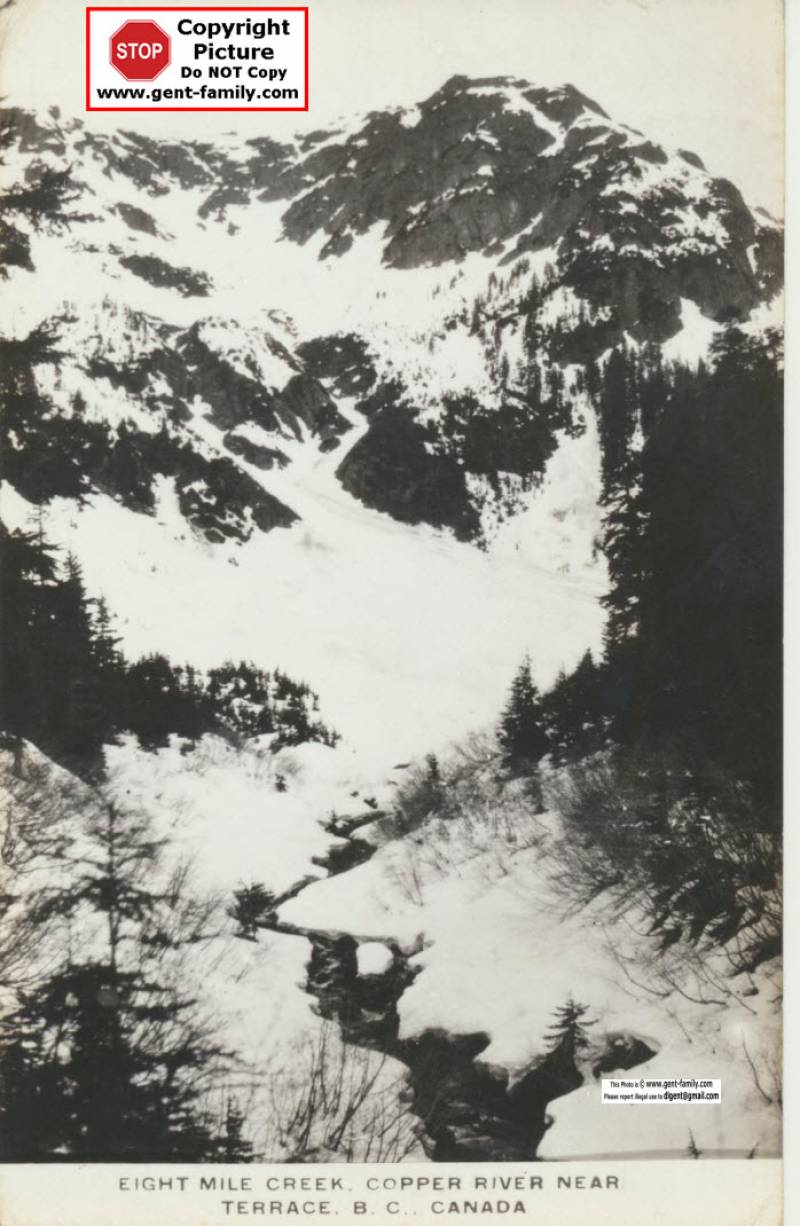 8 Mile Creek, Copper River, ca 1944 Postcard/Photo courtesy Grant Walker, Studio City, CA, May 6, 2013
Copper River

Copper River View, Treasure Mountain in distant left
Postcard courtesy Grant Walker, CA 2015